Legionella Risk Assessments
Legionella Risk Assessments
Commercial Legionella Testing in Scotland
Commercial landlords have a legal responsibility to ensure that all properties have a Legionella Risk Assessment carried out. Apardion's experienced risk assessors will identify potential hazards within the water system and identify cost-effective corrective actions.
Legionella bacteria can cause several severe health conditions, including legionnaire's disease. The Legionella test can identify potential issues regarding the health and safety of your water system. We can carry out a thorough inspection of your site and perform any necessary remedial work, to keep you and your employees safe.
Following the legionella risk assessment, we can provide your business with a Written Scheme of Examination, which can also be produced to ensure to the risk is managed throughout the year.
We are available 24/7, 365 days a year to support landlords and commercial businesses with legionella testing.
Our expert legionella risk assessors operate across Scotland including Aberdeen, Edinburgh, Glasgow and Inverness, plus we have a wider team covering the UK.
Call Apardion today on 01224 649000 to arrange a legionella risk assessment.
We Provide The Best Service In The Industry
COMMITMENT | SECURITY | EXPERTISE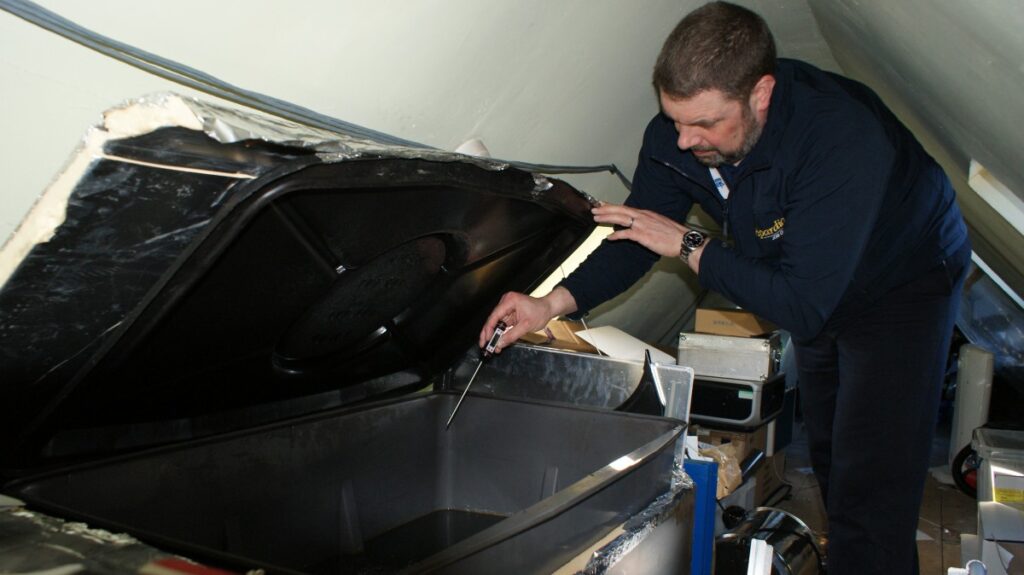 Is legionella testing a legal requirement?
Legionella must be effectively controlled within all building water systems. The legionella risk assessment will highlight areas of potential danger and advise on measures to reduce bacteria levels. Legionella bacteria is preventable and Apardion can carry out regular servicing and risk assessments to keep it under control. Businesses who fail to carry out sufficient control measures can face serious penalties.
The inspection and cleaning of tanks are vital should your system be tank fed. Stagnant water and the build-up of scaling and bio-film can cause bacteria, including legionella, to grow to dangerous levels, therefore keeping your tank clean will keep your staff & tenants healthy.
You're in good hands, we're a company specialising in the provision of total security & FM solutions for your business
Legionnaire's disease Risk Assessment
A legionnaires disease risk assessment test is the most effective way to reduce the risk of employees coming into contact with Legionella bacteria. Property managers are legally obligated to arrange for regular risk assessments to take place.
The legionella risk assessment can depend on each individual premises. Larger properties tend to have more complex water systems. Also, industries which operate using large amounts of water are at a greater risk of legionella bacteria coming into contact with their workers and employees. These include:
Gyms, spas & pools

Hotels & Hospitality

Catering

Car washes

Sports facilities with sprinkler systems
Our experienced legionella testing professionals are able to carry out thorough legionella risk assessments, at commercial properties big or small, no matter the industry. We operate 24/7 across Scotland, covering all areas including Aberdeen, Edinburgh, Glasgow and Inverness. We also have an extended team operating across the UK.
Call Apardion today on 01224 649000 to arrange a legionella risk assessment.
Routine Legionnaire's Testing
Commercial legionella risk assessments can often be overlooked by landlords, however, it is their legal obligation to keep their employees safe. Apardion can provide regular legionella testing for your premises.
Most commercial properties require a legionella risk assessment every 24 months, however, this can depend on the industry also. Legally, a risk assessment may also need to be carried out if:
Moderations are made to a water system

The water treatment programme fails

Increased levels of bacteria are found
Prevention is the most effective way to prevent legionella bacteria.  Apardion can advise on the necessary frequency for legionella risk assessments for your property, and carry out efficient inspections. If you require a one-off or routine legionella risk assessment, then please get in touch using the enquiry form, or give us a call.
Please complete the form or use one of the following method below and a member of our team will contact you to discuss your requirements